Virtual
Organizing
Packages!
Our virtual organizing service is for YOU!
What is Virtual Organizing?
Virtual organizing is when a professional organizer (me!) and the client (you!) connect through technology rather than working side by side in a physical capacity.
Platforms such as Zoom, Skype, and FaceTime are used for the sessions and tools like email, text, and video chat apps are used to stay in contact in between appointments.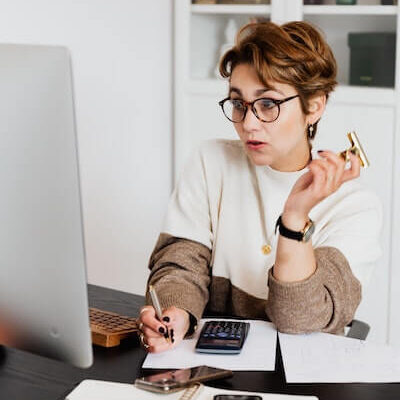 Our virtual packages are for folks who want to learn a new skill and put it into practice while having a professional organizer in their back pocket.
Ronnette will teach, support, and inspire you through *one of these categories at a time:
Rock Star Signature Five-Step Decluttering Process

Rock Star Signature Functional Organization System

Rock Star Signature Household Paper Flow and Processing System

Rock Star Signature Tidying Rhythm

The Division of Household Labor Using the Fair Play System
* There are a few limitations when switching between these 5 systems so please ask Ronnette for more information so that we can set you up for organizing success!
The benefits of virtual organizing:
Friends, the list is long but here are a few of the big ones:
You SAVE MONEY!

It costs about 70% less to utilize Rock Star's virtual coaching over our onsite decluttering and organizing service. You will receive my years of experience, knowledge, resources, support, and accountability for a fraction of the cost.

LESS TIME intensive and so much more FLEXIBLE!

Your virtual sessions are 45 minutes versus the three-hour onsite minimum. After our strategy session, you can implement the work at that moment or at another time that makes sense to you.

You are going to get MAD SKILLS!

Our virtual sessions are built around teaching you to become your very own organizer. From mindset, to how to set up an edit station, to new habits, you are will be empowered to manage your home in a whole new way going forward.

Virtual Organizing is very PRIVATE!

If you are shy about your space, if privacy is important to you, or you are an introvert, virtual organizing can feel less intrusive.
Hybrid On-Site and Virtual OR
100% Virtual Options Available!
Want a budget-friendly way to make progress on your own while getting both virtual and physical support?
Get a four-hour onsite organizer monthly to help you make things happen. Get one virtual session with Rock Star virtual organizer, Ronnette, to create accountability and momentum to keep moving forward on your own for the rest of the month.
One Four hour onsite session with one Rock Star organizer
One 45-minute virtual organizing consultation each month with Ronnette
Thirty days of virtual support via text, email, and video messaging with Ronnette
This package is perfect for folks who want the best of both worlds! The physical support and expertise of an onsite organizer and a virtual organizer keep you on point, motivated, and accountable to make progress in your home. This budget-friendly option is great for those who want to learn new decluttering and organizing skills in creating a home that works for them.
$330 / month to start
Want to DIY-organize your space but with Rock Star power? Limited availability or just like a bit more privacy?
One 60-minute assessment and goal-setting call/Zoom
Tutorial video emailed to you on your chosen signature system
Four-week action plan emailed to you
Two 30-minute accountability calls/Zooms
30 Days of virtual access to Ronnette via text, video messenger, email
$240 / first month
Organizing support for after your initial session(s)!
Ongoing Maintenance Plan - $120/month
Two 30-minute accountability calls/Zooms
30 Days of virtual access to Ronnette via text, video messenger, email
The maintenance plan will keep you supported and inspired to keep going while you make your goal happen!
Decluttering and Functional Organizing
This is going to change your life.
I'm not even kidding. 
Clutter is probably costing you money and time, impacting your mental health and happiness, straining your relationships, and causing you to feel a ton of stress inducing overwhelm.
I'm going to teach you to be your very own decluttering guru. We can work on; mindset, clutter blocks, defining clear goals and what your why is, setting up your supplies and tools to do the work, and the exact decluttering steps I use with my clients.
I will also be available to you for functional organizing guidance. We can evaluate the point of use, simple containment, and labeling for your belongings after you declutter.
Need something specific done in your home?